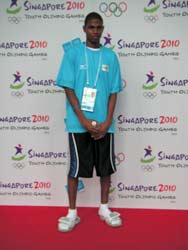 The Virgin Islands Basketball team lost to Central African Republic with a score of 20-16. This is their final game. Serbia won the Gold Medal. Their players have signed with the European League. The United States basketball team finished 4th.
The Virgin Islands Sailors have at least two more races before the gold medal race. Ian Barrows strategically moved up to 2nd place. Challis Diaz scored is around 20 out of 32.
David Walter, who competed in the 400 Meter races, is one of 205 athletes selected to attend a seminar with the President of the International Olympic Committee, Jacques Rogge on August 25th. Discussion topics include the Youth Olympic Games, sports, education, and culture.