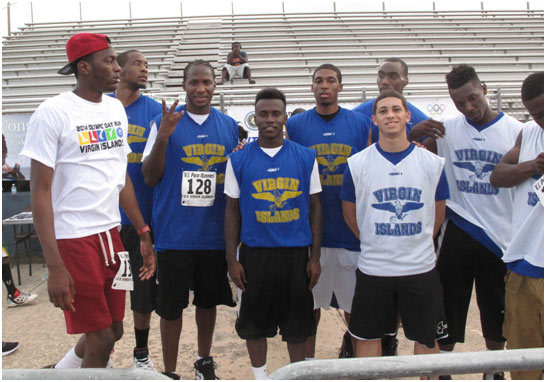 The 28th Annual Olympic Day Run was in St. Croix on Saturday afternoon at the St. Croix Educational Complex High School Track. 
The public was invited to participate and special invitations went out to Virgin Islands Olympic Committee member sports federations.  Dozens of runners and walkers including Olympians, V.I. National Team Members, coaches, officials, volunteers and family were on hand for this test of fitness on the track over the one mile distance and show of support for the Olympic movement. 
Grouped according to minutes per mile pace, very exciting races put the top long distance runner CARIFTA Bronze Medalist, Juan Robles V.I.Pace Runners/V.ITrack  and Field Federation college grad and teacher at St. Croix Central High School against three of top juniors national track and field team members including Malique  Smith, Rodney Griffin and Barthelemy Peter each of the St. Croix Track Club/V.I. Track and Field Federation.
Robles set the early pace for what would likely become a sub five mile race with Smith on his heels as they entered the straight ending the third of four laps.  With a lap to go Smith stretched the lead only to have Robles close the gap in front of a roaring crowd to cross the line with only a second separating the two of them.  Smith took it in 4:44, Robles second in 4:45 and Griffin third in 5:02.
There were two females in this group with Mikeila Smith SCTC/VITFF Malique's sister who was first in 6:06 and Megan Tatum second in 6:13.  The Smiths were cheered on by the parents and coaches Keith Smith Olympian Barcelona 1992 200m and 4 x 100m relay and Mireille Smith national team member for Suriname and NCAA Champion/All-American runners at Eastern Michigan Univ.
Equally exciting was the 7 minute per mile group with  Mathew Mayes St.Croix Dolphins/V.I.Swimming Federation showing sprint skills as he used the tactic in the last 100m to pull away from Dalton Baptise of SCTC/VITFF to win in 6:13 to 6:26.  Karen Dascent of SCTC/VITFF was the first female in the group and third overall in 6:51; Heidi Snow former V.I.Marathon Champion/V.I. Triathlon Federation was second in 6:56; Roger Hatfield V.I.Triathlon Federation was the third male in 7:09 and Mervin Mills of V.I. Cycling Federation was fourth in 8:11.
Mathew Mays recently  qualified for the Youth Olympic Games and was cheered on by his mom Jodie Lawetz-Mays Olympian 100m, 200m Butterfly Swimmer in the 1984 Los Angles Olympics.
In the 10 minute per mile group Donald Bingham of Cross Fit was first across the line in 6:57; Adam Cohen of Cross Fit was a close second in 6:41 and Mireille Smith SCTC/VITFF was the first female  and third overall in 7:04; Wayne Nichols V.I. Triathlon Federation was third male in 7:32; Ana Gutierrez V.I.Pace Runners/VITFF Olympic Marathon in 1992 Barcelona Olympics was second in 8:02 and Michelle Smith SCTC/VITFF and daughter of Mireille, was third female in 8:40.
The appearance of the Virgin Islands National Basketball Team representing the V.I. Basketball Federation set the stage for a separate run with Xavier crossing the finish line in 8:33; Devon Pelter second in 8:52 and Jason Edwin third in 9:42.
The 15 minute per mile was led by Wes Whitehurst, father of London Olympics 100m freestyle swimmer Brenden Whitehurst, V.I. Swimming Federation in 11:56; Linda Nelson V.I. Triathlon Federation was the first female and second overall in12:13 and Shlomo Williams Mary's Fancy Track Club/VITFF was the second male and third overall in 14:59; Malcah Brown MFTC/VITFF was the second female in 14:59; Sigalect Brown MFTC/VITFF was the third female in 15:23 and Sherwin Nero was the third male in 15:51.
An additional 10 minute per mile group was added to accommodate the Mary's Fancy Track Club/VITFF.  That group was led by Daniel Heywood in 6:59; Emanuel Peter 7:51; Keyshan Hassel 7:53.