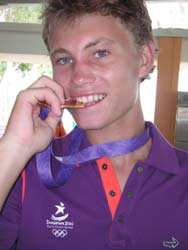 Ian Barrow's wins Olympic GOLD!!!
Ian finished 3rd today in the medal race to clinch the first Olympic gold for the Virgin Islands at the Youth Olympic Games in the Byte CII dinghy.  He beat the two time World Champion Darren Choy of Singapore who of course was the local favorite and the athlete who actually light the Olympic Flame. Germany got Silver and Just Van Anholt of the Netherlands Antilles (GO Caribbean) got the Bronze.  His father Kor, was his coach and as we were standing together watching our flags raised and the VI anthem playing (me crying) he said you know this all began with the Scotia Bank Opti Regatta…. think about it these kids have been racing each other for many years including Darren from Singapore.
It was an amazing experience with the whole VI team there to support Ian as he sailed in and to watch  and cheer at the medal ceremony.
Challis Diaz also had a great day rounding the 1st mark in 2nd place.
She was 13th in the medal race.
David Walter also had an experience of a life time.  He got to meet with Jacques Rogge the president of the IOC.  He actually talked about his experiences at the track and how he liked the format.
tomorrow we are off to a secondary school to meet with the students and talk about the Youth Olympic games.