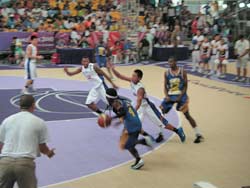 Friday Sailors got off two races Ian had a 2nd and 8 and with the throw out is now tied for 5th place. Challis was not as happy with her results but still in the middle of the the fleet. Unfortunately now wind today as they sat out at the Sailing Center waiting for the wind to fill in. tomorrow is another lay day for them.
David Walters ran his heat in the 400 with a time of 52.50 Before the race he found his friend from Siera Leone and gave him the cleats. Both athlete and his coach were very appreciative. by the way David did receive his Swatch watch last night. Brigitte is one sticker away.
Basketball lost today against Turkey 31 to 16 who were one of the tallest teams in the competition, tomorrow they will play Egypt.
Last night we visited the Virgin Islands Booth in the Olympic Village put together by a local primary school. They were very excited to have us visit and presented us with an awesome wire sculpture and water color hibiscus done by one of the students. They had researched our country and put together display booth.
We presented them with gifts form the VI including hats, bags and books showing our islands. Jaiver Martinez gave each student one of our pins.
Will try to send off some pictures later.
We are off for a team dinner tonight. David and Brigitte are off tomorrow for the Island Adventure which is like an Outward bound program with lots of team building activities including high ropes and repelling and building rafts.