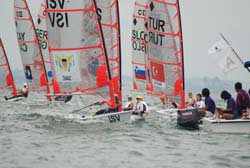 On Thursday the entire VI delegation went to watch and cheer our Basketball team as they played against Croatia. We lost to them as Croatia went undefeated in our round robin. The VI will play against Turkey on Saturday.
David Walters will also run in the 400 on Saturday. Besides training, David has been busy working on the cultural and educational portion of the games and it looks like he will be the first VI athlete to receive the special edition YOG Swatch Watch for completion of all major activities.
After their first day off sailors Ian Barrows and Challis Diaz are back on the water Friday and Saturday. Despite rainy conditions Challis had two 12 place finishes out of field of 32. Ian was 8 and 12. Their competition continues until the 25th.
While at the games, each country is assigned NOC (National Olympic Committee) Assistants to help us get around the village and make sure we get all our paperwork in on time and enjoy all that Singapore has to offer. We have been blessed with 3 outstanding young women, Thu Thu (pronounced Tu Tu), originally from Myramar, Esther from Singapore and Peng from Malaysia. They have really done a fantastic job and enhanced our time here in Singapore.
On Saturday night we are planning to take the entire team and NOC Assistants out to enjoy some true Singapore food especially the famous "Chilly Crab" Will let you know how it goes.