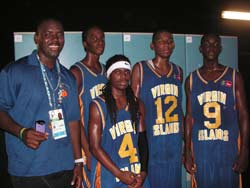 There was an article in Daily News today. They are going to be asking the 8 athletes questions daily about their experiences here at the Youth Olympic Games. (YOG) and running their answers.
Basketball had another great day. They scored 32 points to end the game against the Philippines with over a minute left to play. All four players really know the 3 on 3 game and make the most of it. Their shooting again has been great. Coach Jareem Dowling video taped their next opponent Spain for them to study.
Again the atmosphere at the venue is really unique The team does not have a game on Tuesday but will be participating in a free throw contest in the afternoon. With the way they have been shooting who knows.
Brigitte Rasmussen swims the 100 butterfly tomorrow and David Walters the 400m.
Sailors Ian Barrows and Challis Diaz had a practice race today but no wind made it a drifting match.
Races begin tomorrow.