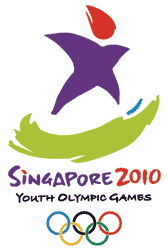 Opening ceremony was impressive. Singapore took advantage of their beautiful waterfront stage and impressive skyline. Lots of fire and fire works, dancersdragons drums, the torch came in by boat across the bay. Hope they showed some clips in the islands. Everyone was home before Midnight so that was a plus.
Bridget swam the 50 breast and was just a little off her CAC best time. She swims again on Tuesday. Bridget really liked the starting blocks that allow you to push off like the track blocks.
The Basketball team had solid win over South Africa. (28-12 I believe could be a little off) At one point they had 3 the pointers in a row. The venue is awesome. Two half court games are going on at once.
Both being announced and music blaring. While the teams are warming up at least twenty girls are dancing while they are shooting. 5 minute halves with a shot clock of 10 seconds It is exciting to watch, They play the Philippines tomorrow morning David Walters practiced at the competition site this AM and will run Tuesday morning. Sailors had another day of practice and will have a practice race tomorrow.
Everyone trading pins and taking advantage of the activities being offered.