Virgin Islands tennis players swung into action with three matches on Saturday, at the San Salvador 2023 Central American and Caribbean (CAC) Games in El Salvador.
Tomas Del Olmo
Tomas Del Olmo opened the action for Team ISV with a tough lost in a see-saw battle to Laurens Deelstra of Curacao, 6-3, 3-6, 10-8. Del Olmo came out strong in the first game and scored a convincing 6-3, win behind 21 service winners compared to Deelstras' 12.
The second set was a role-reversal as Deelstra controlled the scoring posting 24 scoring winners to Del Olmo's 14. Del Olmo lost the second set 3-6, setting up a deciding third game.
In the third game, both players buckled down and did not let their opponent get too large a lead. The back-and-forth rallies and lead changes kept the match close. In the end, Del Olmo lost in a nail-biter 8-10.
Imani Beharry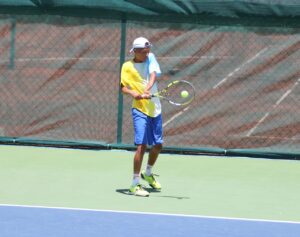 Team ISV's Imani Beharry had a much tougher go of things in his match against Bennaton Guillermo of Honduras, where Beharry lost to Guillermo in straight sets 6-1, 6-4.
Beharry seemed to struggle in the first game as he only garnered six service winners compared to Guillermo's 19. Beharry found a better stroke in the second game as he amassed 14 service winners, but he was still outpaced by Guillermo's 21.
Malena Del Olmo
Malena Del Olmo wrapped up the tennis action for the Virgin Islands on Saturday, with another straight set loss 6-2, 6-1.
Del Olmo could not gain control of her power strokes which she kept hitting long. Her first serves success percentage hovered around 40% and second services were not much stronger at 45%.