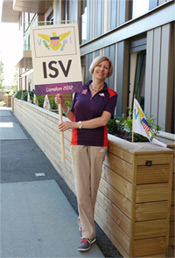 Jane Crossman – Essex, England
My Olympic journey began 7 years ago when we won the bid to host the Greatest Show on Earth and I registered my interest with LOCOG 2012.
I am an Administrator in the Special Needs department at a local College, but with my 3 wonderful sons now at Uni and beyond, I thought what a fantastic opportunity it would be, to be part of welcoming the world to London.
Being offered the role of Games Maker was a great personal achievement and with the help of work, friends and most importantly my family, I am proud to be assigned to the Virgin Islands delegation. and privileged to meet Lyn, our lovely Chef de Mission and her team.
My Games Maker friends, Kieran, Joe and Karen are also making this an amazing experience and my admiration to the dedication and achievements of the athletes is immense. Good luck everyone!
---
Karen Stokes
Hello Virgin Islanders, I'm Karen – an NOC assistant at the London 2012 Olympic Games.  I have been assigned to your country and have found the experience an extremely enjoyable one.  Everyone I have met so far has been wonderful, particularly Lyn Reid who has welcomed me and my fellow volunteers with open arms.  It has been a pleasure working with her.  I took part in the Team Welcome Ceremony prior to the official Opening Ceremony and felt very proud to be associated with the Virgin Islands.  Applying for the volunteer programme started three years ago and has been the best thing I have ever done.  It is a unique experience that only a select few are involved with and I am privileged to be one of them.
Away from the Olympics, I work as a Personal Assistant for an accountancy firm, and I run (probably jog really!) and cycle regularly.  I still live and work in Luton where I was born, which is just north of London.  I am very proud of my hometown and support it's football (soccer) team avidly.  I come from a very close knit family and they all live locally too – that's my mum, dad, sister and brother.
---
Joe Richards
Hello Virgin Islands! Two years ago, when the process of getting involved at the London 2012 Olympic Games began, I only hoped of landing the great role that I have been lucky enough to, working with the Virgin Islands Olympic Committee lead by our super Chef de Mission, Lyn Reid.
Having lived in London for 6 years and enjoyed a variety of careers from directing various music shows at MTV, helping run our family business, volunteering in medical settings, to pulling pints in a local east London pub, as well as a keen swimmer and cyclist myself, I am delighted to welcome the world to my home city and be host to the great Olympians of the Virgin Islands.
As assistants to the delegation of athletes and officials while here in the UK, myself Jane, Karen and Keiran aim to make their visit as memorable as possible, and to do everything we can to leave the athletes and their team able focus on their priority – going for Gold!
I really am delighted to be part of the London 2012 Olympics and especially privileged to be able to work with the world class athletes and the Olympic delegation of the fantastic (and especially friendly) Virgin Islands.. go VI!
---
Kieran Sullivan
Hi Virgin Islanders, My name is Kieran Sullivan and it is my privilege to work as an assistant to your wonderful Olympic Committee during London 2012.
I live in a town called Banbury in the middle of England (near the Cotswold) with my family, wife Denise, daughter Courtney (18), and son Jordon (15) and when I heard about the chance to volunteer for "the Greatest Show on Earth" I couldn't turn it down. I love all sports and want to help all "our" athletes in any way possible so that they enjoy their best games ever. My message to them all is "PB+" Better than your Best. If they leave London having produced their best ever, I would like to think that I and my other assistant colleagues contributed in some small way and will also leave London having produced my best ever for the VI.