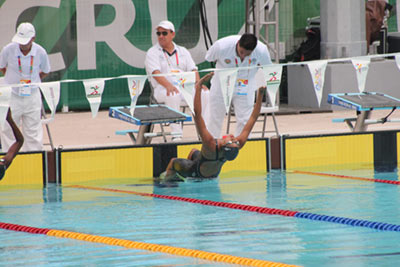 Shortly after witnessing an opening ceremony with flair and star power comparable to that of any Olympic Games, Team V.I. got right into competing in the 2014 Central American and Caribbean games in Veracruz, Mexico.
The first Virgin Islands athlete to enter the stadium as flag-bearer was also the first athlete to compete -Jamaris Washshah. "I was actually really excited being nominated to be the flag-bearer," Washshah said.
The 17-year-old senior at the Country Day Good Hope School on St. Croix, fought off windy conditions as she marched into the stadium in front of tens of thousands of spectators while carrying the V.I. flag and leading the Virgin Islands contingent into the stadium for opening ceremony. "It was big and exhausting, but very entertaining," Washshah said after carrying the flag and enjoying a performance by Ricky Martin from the front row.
Washshah opened the competition for Team V.I. on Saturday, in the Women's 50m Backstroke – one of five events that she plans on participating in. After day one, Washshah saw an improvement in her time from 33.81 seconds in the first heat to 33.09 in the finals. Not a winning time in the races, but closer to her personal goal of sub 33 seconds.
"We're focusing just on ourselves right now," swimming coach for Team V.I. Jemille Vialet said. "We're aiming for qualification cuts for other meets and we're also aiming for records in the Virgin Islands." Less than a week after Washshah returns home from Veracruz, she will be off to Qatar for another event.
"We were doing a lot of sprint work with her. Just a lot of work just to get her in shape to do these events." Vialet is also a coach with the Dolphins Swim Club on St. Croix and focused on a wide range of exercises to prepare Washshah.
Coach Vialet is looking beyond competitions as he sees his athletes competing on the college level. Vialet and other staffers at the Dolphin Swim Club feels that a one trick swimmer is not as attractive on the college level. "We train them to swim every event so when they go to college they can be very marketable," Vialet said.
Vialet also said that the goal is to grow the swim program for both the Virgin Islands and Dolphin Swim Club. He feels of Washshah motivates the younger swimmers in the club. "She's a very good example. The kids love J.J. All the kids want to be like J.J."
According to Vialet, the boys in the program are not as much a natural when it comes to dealing with the younger swimmers. Vialet is looking toward reinstituting a mentoring program in the Dolphin Swim Club. He encourages anyone that might be interested in the Dolphins program to call Michelle Sanes at 719-SWIM for more information.
These 2014 Veracruz Games may not have started out with a medal for Team V.I., but maybe Washshah and other athletes can motivate a new generation into representing Team V.I. on the big stage.