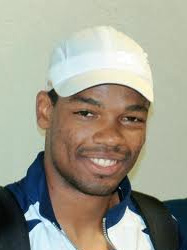 There's no place like home. There's no place like home.
Halim traveled back to Cornell University, his alma mater, for a homecoming meet last weekend and registered career bests in the long jump and triple jump events. The Cornell faithful were on their feet every time Halim started down the runway and the crowd exploded when the results were revealed on the scoreboard.
"It's a huge arena and everyone was going crazy," the 25-year-old Halim said Friday. "It was definitely a special moment. I was surrounded by old friends and coaches, so to have those kinds of jumps in that environment – it couldn't have happened any better for me."
Halim tallied a distance of 16.85 meters in the triple jump, which set a new USVI record, stadium record and personal best. More importantly, the jump met the "B" Standard set by the International Association of Athletics Federations (IAAF) and it qualified him for the 2012 Olympic Games.