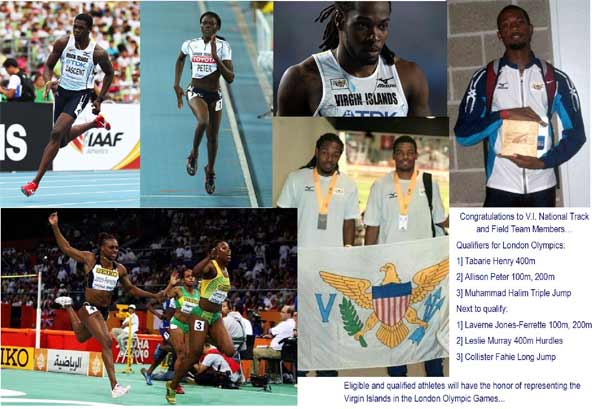 The Virgin Islands Track and Field Federation announced today that three Virgin Islands elite track and field team members Tabarie Henry, Lavene Jones-Ferrette and Allison Peter had impressive performances over the past few days. 
They are three of the four V.I. National Track and Field Team Members who have qualified for the London Olympic Games and will compete in a total of six events, with Jones-Ferrette and Peter qualifying in the 100m, 200m double and Muhammad Halim qualifying in the Triple Jump.
While both Henry and Jones-Ferrette continue with their IAAF World Challenge and Diamond League performances, Allison Peter, a sophomore at the University of Texas is have major breakthrough performances in the 100m and 200m.
ALLISON Peter: ran personal bests in both the 100m 11.17 and the 200m 22.77 and a strong leg on the Texas 4 x 100m relay team to lead her team to the Bib 12 Championships in Manhattan, Kansas this past weekend.  The 100m performance is second only to the V.I. National Record (11.13) held by Jones-ferrette. Her 100m and relay performances led the team to second place in both events.
LAVERNE Jones-Ferrette: After qualifying in the 200m in Ponce, Puerto Rico, she had a strong performance in the 100m in the Colorful Daegu Championships Meet in Daegu,  South Korea the venue for the 2011 IAAF World Championships.  She finished fourth in 11.35 behind world leader, Carmilita Jeter USA 11.11, Blessing Okagbare Nigeria 11.21 and Aileen Bailey Jamaica 11.34.
TABARIE Henry: had the rare opportunity to be in the same meet with his national teammate at Daegu, South Korea and also had a strong performance in the 400m.  Both he and Jones-Ferrette traveled to the east after having outstanding performances over the weekend.  Henry had his best performance of the year with a 45.20 in Doha, Quatar where he finished fifth behind world leader Lashawn Merritt who took first in 44.19.
In Daegu on Wednesday Henry finished fourth in the 400m with a time of 45.77 behind IAAF World Champion Kirani James of Grenada 44.72.
Note: The Virgin Islands now has four V.I. National Team Members on the IAAF World List: Laverne Jones-Ferrette 100m, 200m; Allison Peter 100m, 200m, Muhammad Halim Triple Jump; Hasheem Halim Triple Jump