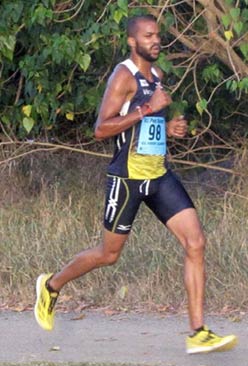 The running of the 27th edition of The V.I.Pace Runners Paradise 5K gave local and visiting runners what they wanted, a tour of the toughest part of the run. 
leg in the 70.3 Half-Ironman and a chance to run with each other.  Juan Robles made a busy weekend of it as he took the lead from the start and never trailed and finished first with a time of 16:42. Billy Bohlke, doing it because he loves it, was second in 19:03; Tony Jolly was third in 19:46. 
The female race was much closer as St. Croix's Rachel battled Claudia Beristan of Mexico for the title, Beristan held on to win over the St.Crox Track Club/Country Day Good Hope runner by a mere six seconds, 23:10 to 23:16. Stacy Menyez of Des Plains, Illinois was third in 27:35. 
The group of aproximately three dozen an international field saw the top ten males and females awarded race medals and race certificates. Each runner received a retro V.I.Pace Runners t-shirt. It included a contingent of Internation Triathlon Union officials on island to conduct a triathlon coaching course hosted by the Virgin Islands Triathlon Federation.
Place Name                Age S City            St Club       Time    Pace
===== =================== === = =============== == ========== ======= =====
1

JUAN Robles

26

M

St. Croix

 

16:42

5:24

2

BILLY Bohlke

30

M

St. Croix

 

19:03

6:09

3

TONY Jolly

43

M

 

 

19:46

6:23

4

RODRIGO Milazzo

42

M

Portugal

 

21:10

6:50

5

RANDALL Nielsen

42

M

St. Croix

 

22:02

7:07

6

ROBB Kulzynski

29

M

St. Croix

 

22:08

7:09

7

CLAUDIA Beristan

48

F

Mexico

 

23:10

7:29

8

RACHEL Connof

15

F

St. Croix

 

23:16

7:31

9

COLBY moran

13

M

St. Croix

 

23:23

7:33

10

TJ Vandehey

30

M

St. Croix

 

23:33

7:36

11

ADEN Stevens

16

M

St. Croix

 

23:36

7:37

12

HASANI Lynch

14

M

St. Croix

 

24:23

7:52

13

DREW Wall

34

M

St. Croix

 

24:31

7:55

14

ISAIH Stevens

14

M

St. Croix

 

24:57

8:03

15

MASON Lambert

8

M

St. Croix

 

25:21

8:11

16

KADEN Gleason

7

M

St. Croix

 

25:44

8:19

17

JAY Gleason

40

M

St. Croix

 

25:45

8:19

18

CHRISTOPHER Haug

31

M

St. Croix

 

27:29

8:52

19

JOSE FERINA Alfonso

54

M

Puerto Rico

 

27:31

8:53

20

STACY Menyez

27

F

Des Plains,

Ill

27:35

8:54

21

REGINA Stevens

40

F

St. Croix

 

27:42

8:57

22

JOHN Hourihan

59

M

St. Croix

 

29:04

9:23

23

MAYEH Russell

14

F

St. Croix

 

29:05

9:23

24

DENIS Honeychurch

68

M

 

 

30:46

9:56

25

NED Jacobs

63

M

St. Croix

 

32:21

10:27

26

KEVIN Moran

41

M

St. Croix

 

32:24

10:28

27 KARA Donnelly        36 F Cayman Islands                  35:02 11:19

28

ROSLYN Turner

62

F

St.

Croix

 

35:06

11:20

29

KIRRA Lambert

8

F

St.

Croix

 

37:28

12:06

30

MEGAN Lambert

33

F

St.

Croix

 

37:29

12:06

31

JAYDEN Lazama

9

M

St.

Croix

 

38:07

12:18
| | | | |
| --- | --- | --- | --- |
| 32 JENNIFER Sturm | 31 F St. Croix | 38:09 | 12:19 |
| 33 REY Lutz | 62 M St. Croix | 38:44 | 12:30 |
AWARD LIST FOR  RACE THE 27TH PARADISE 5K
Distance: 3.1 Miles…Rolling Course…
Segment of Ironman 70.3 Run Course April 30, 2015
The Buccaneer Resort Christiansted, St. Croix, Virgin Islands USA Organized by: The Virgin Islands Pace Runners
Sanctioned by: The Virgin Islands Track and Field Federation
********** MALE OVERALL RESULTS FOR 5K RACE ***********
1

JUAN Robles

26

St.

Croix

16:42

16:42

16:42

2

BILLY Bohlke

30

St.

Croix

19:03

19:03

19:03

3

TONY Jolly

43

 

 

19:46

19:46

19:46

4 RODRIGO Milazzo       42 Portugal                         21:10   21:10   21:10

5

RANDALL Nielsen

42

St.

Croix

22:02

22:02

22:02

6

ROBB Kulzynski

29

St.

Croix

22:08

22:08

22:08

7

COLBY moran

13

St.

Croix

23:23

23:23

23:23

8

TJ Vandehey

30

St.

Croix

23:33

23:33

23:33

9

ADEN Stevens

16

St.

Croix

23:36

23:36

23:36

10

HASANI Lynch

14

St.

Croix

24:23

24:23

24:23

11

DREW Wall

34

St.

Croix

24:31

24:31

24:31

12

ISAIH Stevens

14

St.

Croix

24:57

24:57

24:57

13

MASON Lambert

8

St.

Croix

25:21

25:21

25:21

14

KADEN Gleason

7

St.

Croix

25:44

25:44

25:44

15

JAY Gleason

40

St.

Croix

25:45

25:45

25:45

16

CHRISTOPHER Haug

31

St.

Croix

27:29

27:29

27:29

17 JOSE FERINA Alfonso   54 Puerto Rico                      27:31   27:31   27:31

18

JOHN Hourihan

59

St.

Croix

29:04

29:04

29:04

19

DENIS Honeychurch

68

 

 

30:46

30:46

30:46

20

NED Jacobs

63

St.

Croix

32:21

32:21

32:21

21

KEVIN Moran

41

St.

Croix

32:24

32:24

32:24

22

JAYDEN Lazama

9

St.

Croix

38:07

38:07

38:07

23

REY Lutz

62

St.

Croix

38:44

38:44

38:44
********** FEMALE OVERALL RESULTS FOR 5K RACE ***********
1 CLAUDIA Beristan      48 Mexico                           23:10   23:10   23:10
| | | | | | | | | |
| --- | --- | --- | --- | --- | --- | --- | --- | --- |
| 2 | RACHEL Connof | 15 | St. | Croix |   | 23:16 | 23:16 | 23:16 |
| 3 | STACY Menyez | 27 | Des | Plains, | Ill | 27:35 | 27:35 | 27:35 |
| 4 | REGINA Stevens | 40 | St. | Croix |   | 27:42 | 27:42 | 27:42 |
| 5 | MAYEH Russell | 14 | St. | Croix |   | 29:05 | 29:05 | 29:05 |
6  KARA Donnelly         36 Cayman Islands                   35:02   35:02   35:02
7  ROSLYN Turner         62 St. Croix                        35:06   35:06   35:06
8  KIRRA Lambert          8 St. Croix                        37:28   37:28   37:28
9  MEGAN Lambert         33 St. Croix                        37:29   37:29   37:29
10  JENNIFER Sturm        31 St. Croix                        38:09   38:09   38:09 MALE AGE GROUP: 1 – 9
1      15 MASON Lambert          25:21   8 St. Croix                25:21 25:21
2      16 KADEN Gleason          25:44   7 St. Croix                25:44 25:44
3      31 JAYDEN Lazama          38:07   9 St. Croix                38:07 38:07
FEMALE AGE GROUP:   1 – 9
1    29 KIRRA Lambert          37:28   8 St. Croix                37:28 37:28
FEMALE AGE GROUP:   10 – 19
1     8 RACHEL Connof          23:16  15 St. Croix                23:16 23:16
2

MALE AGE

23 MAYEH Russell GROUP:  10 – 19

29:05

14

St.

Croix

29:05

29:05

1

9

COLBY moran

23:23

13

St.

Croix

23:23

23:23

2

11

ADEN Stevens

23:36

16

St.

Croix

23:36

23:36

3

12

HASANI Lynch

24:23

14

St.

Croix

24:23

24:23

4

14

ISAIH Stevens

24:57

14

St.

Croix

24:57

24:57

FEMALE AGE GROUP:  20 – 29

1    20 STACY Menyez

MALE AGE GROUP:  20 – 29

1     1 JUAN Robles

27:35

 

16:42

27

 

26

Des Plains, Ill

 

St. Croix

27:35

 

16:42

27:35

 

16:42

2     6 ROBB Kulzynski FEMALE AGE GROUP:  30 – 39

1    27 KARA Donnelly

22:08

 

35:02

29

 

36

St. Croix

 

Cayman Islands

22:08

 

35:02

22:08

 

35:02

2    30 MEGAN Lambert

37:29

33

St. Croix

37:29

37:29

3    32 JENNIFER Sturm

38:09

31

St. Croix

38:09

38:09

MALE AGE GROUP:  30 – 39

1

2 BILLY Bohlke

 

19:03

30

St.

Croix

19:03

19:03

2

10 TJ Vandehey

 

23:33

30

St.

Croix

23:33

23:33

3

13 DREW Wall

 

24:31

34

St.

Croix

24:31

24:31

4

FEMALE

18 CHRISTOPHER AGE GROUP:  40 –

Haug 49

27:29

31

St.

Croix

27:29

27:29

1

7 CLAUDIA Beristan

23:10

48

Mexico

23:10

23:10

2

MALE AGE 1

21 REGINA Stevens GROUP:  40 – 49

3 TONY Jolly

27:42

 

19:46

40

 

43

St. Croix

27:42

 

19:46

27:42

 

19:46

2

4 RODRIGO Milazzo

21:10

42

Portugal

21:10

21:10

3

5 RANDALL Nielsen

22:02

42

St. Croix

22:02

22:02

4

17 JAY Gleason

25:45

40

St. Croix

25:45

25:45

5

26 KEVIN Moran

32:24

41

St. Croix

32:24

32:24

FEMALE AGE GROUP:  50 – 59

MALE AGE

1

GROUP:

19 JOSE

50 – 59

FERINA Alfonso

 

27:31

 

54

 

Puerto Rico

 

27:31

 

27:31

2

22 JOHN

Hourihan

29:04

59

St. Croix

29:04

29:04

 
 
 
 
 
 
 
 
 
 
 
 
FEMALE AGE GROUP:   60 – 99
1    28 ROSLYN Turner          35:06  62 St. Croix                35:06 35:06
MALE AGE GROUP:  60 – 99
| | | | | | | | | |
| --- | --- | --- | --- | --- | --- | --- | --- | --- |
| 1 | 24 | DENIS Honeychurch | 30:46 | 68 |   |   | 30:46 | 30:46 |
| 2 | 25 | NED Jacobs | 32:21 | 63 | St. | Croix | 32:21 | 32:21 |
| 3 | 33 | REY Lutz | 38:44 | 62 | St. | Croix | 38:44 | 38:44 |