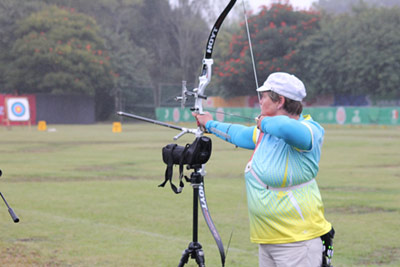 "Grandma Luge" has retired from competitive luge racing, but not form competitive sports. Now, you can find the senior citizen athlete putting her archery skills on the line for the Virgin Islands.
Anne Abernathy is not the typical 61-year-old. The 6-time Olympian has now converted from negotiating frozen downhill courses to piercing target bulls eyes in the distance – among other things.
"The best thing about Archery is that it's fun," Abernathy said. "Everybody can participate at the level where they are."
Abernathy is currently writing a series of books on Olympic sports and not far into her research she learned a fact that motivated her into action. "I found that the oldest woman to ever win an Olympic medal did so in Archery," Abernathy said.
Steady progress is the key to development and Abernathy posted her personal bests in both the 70m and 60m distances on Tuesday. She was complemented by younger, but more experiences archers on her performance. "I'm thrilled!" Abernathy said. "The fact that they think I'm doing well – and Coach is still talking to me – it was a great day!"
Team V.I. Archery Coach Ruth Rowe agreed. "Tremendous improvement for somebody who has only shot for 20 months," Rowe said of Abernathy. "To be shooting what she is shooting now and competing in these tournaments and being successful with them is an indication of a tremendous athlete."
But Abernathy's venture into Archery is not just for personal gain. "When I first talked to my coach, the first thing that we talked about was a developmental program for the V.I. Archery is something anybody can do at any age," she said.
According to Abernathy, the future of Archery in the V.I. is showing potential for growth with ideas including indoor programs and competitions. Indoor competitions can be done online as well through means of Skype and other online video-streaming applications. Trinidad and Tobago and Barbados has already requested that the V.I. join such Archery forums.
Currently, Team V.I. Archery Coach Ruth Rowe and V.I. Archery President Dr. William Coles has a program where the offer open training for anyone interested in discovering the world of Archery. Through donations and equipment purchases, the V.I. Archery Federation provides instructors and equipment for use every weekend.
Rowe said the program is there to get people involved in the sport and potentially develop more members for the V.I. National team
Prospective archers can meet on St. Croix from 9 a.m. to 11 a.m. on Saturdays and Sundays from 8:30 a.m. to 10 a.m. at the Paul E. Joseph Stadium. On St. Thomas, you can give Archery a try at the Montessori School Campus on Sundays from 3 p.m.- until dark and Monday mornings from 6 a.m. -7:30 a.m.
Abernathy still has a couple more days of competition left and the V.I. is hoping that "Grandma Luge" still has time to earn a new name – "Grandma Gold."
Schedules and scores from the 2014 Central American and Caribbean Games can be seen on veracruz2014.mx