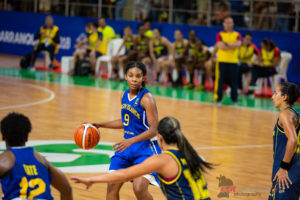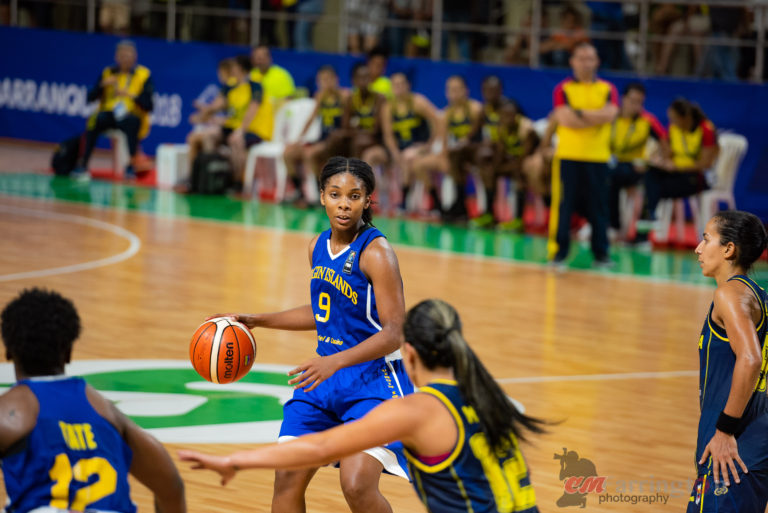 The U.S. Virgin Islands (ISV) National Women's Basketball team remain confident after suffering two losses and completing their 2018 Central American and Caribbean (CAC) Games preliminary round with a 1-2 series on Sunday.
Team ISV played host country, Colombia, as well as Cuba and Jamaica respectively over the last three days. They lost to Colombia, 55-67, and to Cuba, 81-54. However, they did defeat Jamaica by a massive 30 points with a score of 67-37 in the final preliminary round game on Sunday.
The team's head coach, Clint Williams, said that when he joined the team last year, he wanted to focus on adding more talent to support the team's seasoned players, which proved fruitful when they became the 2017 Centrobasket Champions in St. Thomas last summer, as well as achieving a highlighted upset over Brazil, ranked 9th in the world, in the 2017 Americup. It's an element that gave the team confidence moving into this year's CAC Games.
"I feel like our athleticism is what helped us, and it kind of added some more pieces and some more help around the core—Lanese Bough, Victoria Hamilton, Natalie Day—those three young ladies have been playing for 10 plus years on the national team," he said. 'So, we added some pieces like Anisha George, homegrown talent that's young, you know, Imani Tate—pieces like that, that were able to come in and help us right away. So, I felt like that definitely gave us a big boost."
In their 2018 CAC Games debut against Colombia on Friday, July 20, Team ISV competed in a packed house and came out ending the first quarter with a two-point lead. However, after a stagnant second quarter with an only 4-17 point rally, the team never gained enough momentum in the second half to bring it home. Tate, 22, who played every minute of the game brought in nearly half the points for the team with a solid 60 percent conversion rate from the three-point line.
The squad suffered a similar fate the following day on Saturday against Cuba—leading the first quarter by one point, falling behind in an 8-19 rally in the second, and then struggling to get back on their feet throughout the final half. Day, a 28-year-old forward, and Tate, a shooting guard, both gave the team double digit numbers, 11 and 15 points respectively. The team's 25-year-old point guard, Bough, who contributed three rebounds and two assists, came up just short with nine points.
Unfortunately, Game 2 against Cuba ended with Cheyenne Hedrington, 24, suffering a major injury. The ISV forward tore her Achilles' tendon in her left foot. Hedrington will not play for the remainder of the tournament, but plans to stay and support her teammates. She will be having surgery when she returns the United States, according to Coach Williams.
Coach Williams said lack of training has been a major contributor to the squad's performance in the tournament. The team only had a couple days of training camp in St. Thomas prior to the CAC Games and few days of practice upon arriving in Barranquilla.
"We can't finish at the rim like we normally do, shots are flat, can't make layups…," Williams said. "When we're not in shape, we can't sustain that for the rest of the game. We just fell behind and [couldn't] get out that hole we dug ourselves into."
Bough agreed saying that the team knew they weren't in the best condition to compete, however she believes that the unity of the team is what gets them through the games and keeps them going moving forward.
"We just need to stick together. We get tired. We're a small group, so throughout 40 minutes of play, we're going to get tired, so we just need to stick together at the ending. In the games ahead, we're going to have to learn how to do that," she said after their loss against Cuba.
Bough words were heard loud and clear in their sweeping win against Jamaica on day three after back to back losses. The team will play Barbados today for overall placement, where they'll have a shot to increase their rank within the tournament amongst the eight teams competing.
Coach Williams remains very confident in the overall talent and potential of the team moving beyond these games. "I definitely feel like we have the athletes and we're more athletic, but if we're not in shape, then that doesn't count," he said. "Unfortunately, we didn't have enough time in this tournament to get in shape, but we're still feeling confident and taking it one game at a time."
Bough added that she and her teammates plan to stay positive, play their best, and work hard to get better as a unit.
"As a team, we was just trying to make the best of it, because we wasn't prepared like how we was last year, so we just tried to make the best of our competition ahead of us yesterday, today and whatever we have forward," she said. "So that's what we're doing right now, playing together, staying together, enjoying our little time that we have here [sic]. "
This is the first time the USVI's national women's team has played in these games since their 2010 appearance in Mayaguez, Puerto Rico where they placed fourth overall after losing in the bronze medal match against Jamaica.