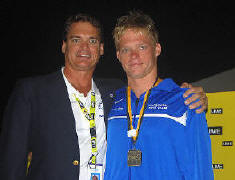 Bryson Mays swam his way to one gold medal and two silvers to lead a U.S. Virgin Islands contingent of 14 swimmers that competed at the XXVI CARIFTA Swimming Championships last week in Barbados.
As a team, the USVI finished 11th out of the 17 countries that took to the pool for four days of fierce competition. Before the team left last week, USVI coach John Vasbinder described the event as one of the top age group swim meets in the Central American and Caribbean region.
Mays entered the meet as the top seed for the 200- and 400-meter Individual Medley races. He took first in the 400 IM in 4 minutes and 42.81 seconds, and barely missed another gold in the 200 IM when Suriname's Diguan Pigot touched a fraction of a second faster.
"After getting touched out by less than a tenth in the 200 IM by the guy who he beat in the 400 IM, Bryson got a little angry and dropped four seconds off his best time in the 200 Butterfly to win another silver medal for the evening," said the V.I. Olympic Committee's Jodie Mays, who was in Barbados to watch her son Bryson, and younger brother, Matthew, compete against the best.