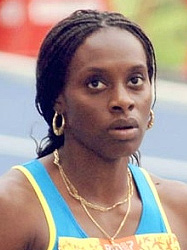 It was a busy week for the V.I. national record holder in the 100m, 200m and 400m. The Ponce performances, including her 3rd place finish in the 100m in 11.24 is a strong indication that Jones-Ferrette is at least back to earlier form compared to times over the past three years as she continues into her professional outdoor season and it puts her among the top twenty in the world for the event.  The field at Ponce included world-class sprinters: Tianna Madison USA 1st 22.07 (as of Sat. the second fastest time in the world); Janema Tarmoh USA 2nd 22.66; Jones-Ferrette ISV 3rd 22.93; Porsche Lucas Jamaica 23.15; 4th  Simone Face Jamaica 23.17 5th ; Patricia Hall Jamiaca 6th 23.24; Carol Rodriquez Puerto Rico 23.75 7th and Genoiska Cancel Puerto Rico 8th 24.39.
Notes:
1]  The Ponce Grand Prix is an IAAF Challenge Meet which extends invitations to top world competitors preparing for and/or looking for qualifying marks for the London Olympics.
2] The Ponce Grand Prix presents a clear picture of how track and field has evolved in Puerto Rico.  On Saturday night, the Paquito Montaner Stadium had 11,000 plus people show up to see the last event, not to mention the thousands watching the meet on TV, the 400m hurdles when their countryman Javier Colson ran a world leading 48.00!  V.I. National Team Member Leslie Murray competes in the 400mh and at that level, and he is making his attempt at the London qualifier, he is less than a half second from doing so.
"This race is very special for me and it gives me a lot of motivation in my preparation for the Olympics. This is my hometown and I am really happy to run a fast race for my people. I will continue to work hard to hear my national anthem sung in London," Culson told a frenzied crowd after the race.
3] Puerto Rico is closest to home that Laverne Joes-Ferrette has competed as a professional. The only other option she or any of the half-dozen V.I. world-class track and field athletes would have would be the British Virgin Islands which has a certified IAAF track. While in Ponce she participated in a live interview on local St. Croix radio station/s.
4] Jones-Ferrette leaves for Daegu,South Korea on Sunday to compete in the Colorful Daegu Championship. Her performances increase the number of V.I. National Team Members who have qualified for the London Olympics to four:
Tabarie Henry 400m ("A" Standard)
Laverne Jones 100m and 200m ("A" Standard)
Allison Peter 100m and 200m ("A" Standard)
Muhammad Halim Triple Jump ("B" Standard)
5] This is historic for the Virgin Islands as it will be the first time that this many V.I. track and field athletes will qualify for the Olympics and compete in so many events since the existing [very stiff] qualifying standards have been instituted. It will be a challenge for any country in the world as small as the Virgin Islands to have as many qualified athletes in track and field in the London Olympic Games.