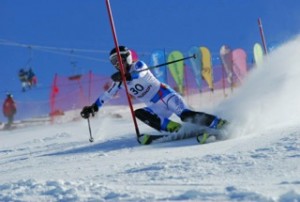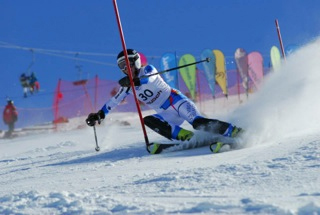 The Virgin Islands Olympic Committee is proud to announce that Jasmine Campbell, formerly from St. John, VI was nominated to represent the U.S. Virgin Islands at the 2014 Winter Olympic Games in Sochi, Russia.
On January 20, 2014, the International Ski Federation (FIS) officially confirmed that Jasmine Campbell met all qualification requirements to participate in two alpine skiing events: Giant Slalom and Slalom.
Giant Slalom involves skiing between sets of poles (gates) spaced at app. 65 feet distance to each other. The vertical drop for a course is usually around 1,200 feet. Although not the fastest event in skiing, on average a well trained racer may hit speeds of 50 mph. In Slalom, poles are spaced much closer together than in Giant Slalom. Racers must pass approximately 50-60 poles in Slalom to reach finish.
Campbell achieved the required five (5) qualifying finishes in international competitions with her final points of 64.55 for Giant Slalom and 82.24 for Slalom . The amount of points scored each race depends on how far the athlete finished behind the leader with range between 0-140 points.
Jasmine Campbell was born and raised in St. John, U.S. Virgin Islands. Campbell is the daughter of John Campbell who represented the U.S. Virgin Islands in skiing at the 1992 Winter Olympics in Albertville, France.
At age 9, Campbell moved with her family to Sun Valley, Idaho. After being introduced to skiing by her father, ski racing became Campbell's instant passion as she was drawn to the speed, exhilaration, and athletic challenge of the sport. At age 13, Campbell won a bronze medal in Giant Slalom at the U.S. National Junior Championship. Unfortunately, during her junior year of high school, Campbell was injured and her enthusiasm to pursue skiing was hindered.  Skiing in the Olympics, however, remained in the back of Campbell's mind as an aspiration she had yet to accomplish.  After recovery from her back injury, in 2010, Campbell joined a ski racing team at the Whitman College, Walla Walla, Washington and found that her love for the sport was instantly rekindled.
In summer 2013, Campbell decided to take her senior year off to train for the Olympic qualification.  In June 2013, she attended ski training camps, at Mammoth, California and Mt. Hood, Oregon organized by the Sun Valley Ski Education Foundation (SVSEF). At the end of the summer, Campbell traveled to South America, where she trained and raced with the Argentinean ski team. In November Campbell trained in Colorado with a former U.S National Team member and a top U.S. ski racer – Hailey Duke.  Shadowing such a high-level racer through multiple days of gate-training, gave Campbell a major boost to her training, both mentally and physically.  In December 2013, Campbell traveled to China where she participated in series of international ski competitions. Her extensive training paid off and Campbell became the first Virgin Island skier to reach podium in any international (FIS) ski race. Campbell placed 2nd in Giant Slalom race and then the very next day she finished 3rd in another Giant Slalom race.
Until she leaves for Sochi in first week of February, Campbell will train with the Sun Valley Ski Educational Foundation in Sun Valley, Idaho.
Campbell is very excited at the opportunity to represent the U.S. Virgin Islands in the Olympics. For every athlete, it is a lifelong dream, and the biggest achievement.
Campbell will be the second woman from the U.S. Virgin Islands to compete at the Winter Olympic Games in alpine skiing.  Seba Johnson was the first woman athlete skier from the U.S. Virgin Islands participating in 1988 Calgary Winter Olympic Games,