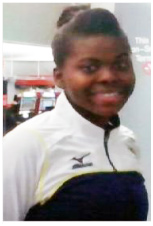 On the way to The Taekwondo World Championship in Puebla, Mexico in July 2013, Danese Joseph, the Virgin Islands Taekwondo National Team female heavy weight athlete is making a name for herself, as well as the Virgin Islands. Most recently she fought to defend her Gold from last year's Canadian open, but fell short to get the bronze medal for this year.
Her first fight was against Rebecca Garand of Canada. After the first round, she was down a point but came from behind to win 3-2. She was happy to get her first fight out of the way to mentally prepare herself for my next fight against Mexico's Guadalupe Ruiz Lopez, the number 4 ranked heavyweight in the world. The match started very close until she landed the first point at the end of the first round. Danese turned it around in the following two rounds to get the score to 4-5 with about 10 seconds left. She was forced to rush to make up the one point deficit in order to tie the match which would send it into a sudden death fourth round. Unfortunately, in her rush Mexico was able to score an additional three points with a head shot ending the match 8-4.
Danese is the reigning AAU National Taekwondo Champion in her weight division, and lost to the number one in the world at that time Gwladys Epangue of France at the US Open in Las Vegas, Nevada in February 2013. As of May 1, 2013 Danese Joseph is ranked number 41 in the world. With her Bronze medal at the Canadian Open, her ranking will go which would put her in an excellent for World Taekwondo Championships in preparation for Rio 2016.