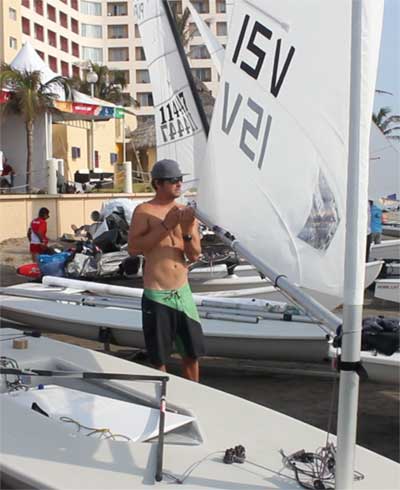 VERACRUZ, Mexico – To be successful in competitive sailing one must be in good physical condition, but one's fiscal conditions play a major role as well.
Members of the Virgin Islands sailing team participating in the 2014 Central American and Caribbean Games in Veracruz, Mexico, are seeing financial effects during the games.
"Equipment is very lacking. Especially for what we paid for," Cy Thompson said. "The only people that seem to have nice boats are the ones that either got it container shipped, but more importantly, the Mexicans who have brand new gear in every class that we sail."
Thompson, who races in the Laser class, said the boats are so old he would not accept one if it was given to him at no cost. He pointed out that the boat rented to the sailor from Antigua was logged with what seemed like 10 gallons of water.
When asked if he thinks that the selective distribution of equipment is a possible move to give certain teams and edge, he replied, "I never put it past these countries." Thompson speaks from experience, as he was a winner in CAC Games before.
Despite the equipment issues, Team V.I. plans on sailing on to victory.
Thompson sailed his way into the qualifications for the 2016 Olympic Games scheduled for Rio de Janeiro, by making gold fleet in Spain, earlier in 2014. But he is very aware that preparing for high-level competitions bear a high level of financial considerations.
"The hard part is over, but I guess the next obstacle is the fundraising to keep things going – which is the hardest thing to do," Thompson said.
According to Thompson, $100,000.00 is a guestimate of what it would cost for his equipment and travels for his international preparation.
"That's a lot of money, I know, but to stay competitive that's what you need," Thompson said. "You need the coaches, the equipment and you need to travel to the events like the big regattas. That's just the way it is."
Thompson feels if you go to the Olympics without that level of preparedness, "you're just showing up."
"I've been there before," Thompson said of the Olympics. "I want to go back, but this time I want to have a fighting chance."
Laser class competitions are global events and Thompson would like to have equipment strategically placed at key sailing areas. "When I say equipment, I mean just being able to have boats. One boat in Rio, two boats in the U.S. and one boat in Europe so when I go there I don't have to keep renting," Thompson said.
Thompson has the backing and support of the V.I. Sailing Federation, but so do all other members. "It's tough because there are a ton of athletes – ones that haven't qualified – and need their (federation) support as well," Thompson said. They help as much as they can, but sailing is an expensive sport."
Team V.I. is sailing in the Sunfish, Laser, Laser Radial and the J-24 classes in Veracruz, Mexico, and the V.I. Sailing Federation has high hopes for Team V.I. and hopes that success carries over to other young V.I. sailors. Members of Team V.I. will have at least 10 days of competition in Veracruz, Mexico.
With national title in the Opti class and a win over more than 400 other competitors in the New England's, the V.I. is expected to continue to produce great sailors.