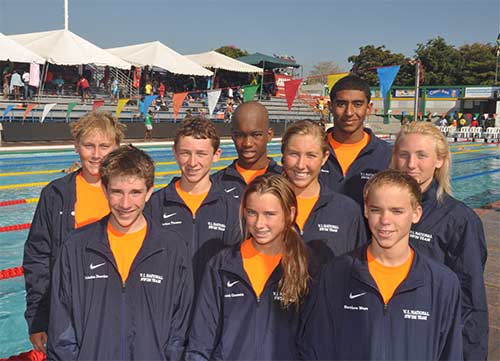 The Virgin Islands National Swim Team traveled on March 28th to April 3rd to compete in the XXVIII CARIFTA Swimming Championships held at the National Stadium Pool in Kingston, Jamaica.  The CARIFTA Swimming Championships (Caribbean Free Trade Association) is a high level regional swim meet offered to English Speaking Caribbean Countries.  Representing the National Team were 9 swimmers, 2 Coaches, Team Manager, and a Meet Official.  Over 300 swimmers from 22 different nations competed in this meet.
The nine swimmers representing the Virgin Islands Swimming Federation (VISF) were: Hannah Clements, Sasha Klein and Portia Norkaitis from St. Thomas and Matthew Mays, Kenny Wilson, Jonathan Thomas, Webster Bozzo, Victor Torres, and Nicholas Dascher from St. Croix.  They were led by National Coach John Vasbinder and assisted by Coach Brian Brady, Team Manager Cinthia Sanes, and VISF President and Meet Official Brent Mays.
Overall, the meet was very successful for all VI Swimmers; Matthew Mays placed 2nd in the 200m Butterfly, 4th in the 400m IM, 5th in the 200m Back, 6th in the 200m IM, and 8th in the 100m Back for the 13-14 male category. He also earned his spot to represent the Virgin Islands in the Central American and Caribbean Swimming Championships (CCCAN) by qualifying in the 400m IM and 200m Butterfly.  Victor Torres placed 4th in the 100m back, 5th in the 200m back, and 6th in the 50m back for the 15-17 male category. He broke a VISF Long Course record in the 50m back with a 28.30. He added to the list of events for CCCAN by achieving a qualifying time in the 200m Back.  Nicholas Dascher placed 6th in the 1500m Free for the 13-14 male category.  Sasha Klein placed 8th in the 50m Fly and Hannah Clements placed 7th in the 50m Breaststroke female 13-14 category. Portia Norkaitis placed 8th in the 50m Breaststroke female 15-17 category.  The relay team overall consisted of Matthew, Kenny, Jonathan, Webster and Nicholas. Matthew, Kenny, Jonathan and Webster took 7th in the 400m Free and 400m Medley. Kenny, Jonathan, Nicholas and Matthew took 6th   in then 800m Free and 8th in the 200m Free.
The next high level regional swim meet is the CCCAN Swimming Championships and it will occur in Costa Rica June 29th to July 5th. The VISF has eight swimmers who have qualified for this meet and expect to have a few more qualify in the next few months.
For additional information about the swim meet, you can contact National Head Coach John Vasbinder at 340-244-7657 and/or Cinthia Sanes at 340-719-7946/ email stcroixdolphins@gmail.com.
If you would like to be a part of this rewarding sport, please contact the Dolphins Swim Team on St. Croix at 340-719-7946 or email at stcroixdolphins@gmail.com. On St. Thomas, contact the Stingrays Swim Team at 340-779-7872 or email at info@sttswimming.org.