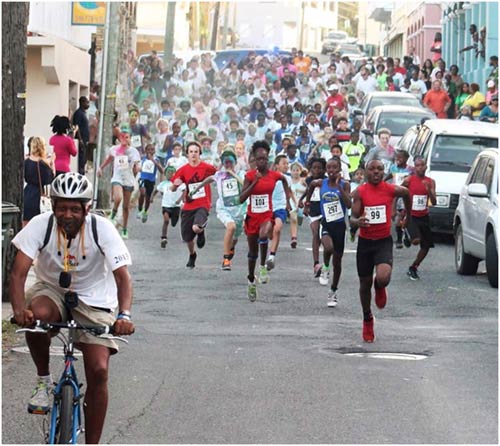 The start of the 17th Children Run Christiansted "Live and In Color"
With a total of 228 official finishers and over 50 unofficial participants, boys and girls 13 and under.  Number 99 Valence Modeste of the St. Croix Track Club successfully defended his title, took the lead early on and held it down King St. to the finish at the Scale House of the Christiansted National Historic Site, his time was 1 minute 23 seconds for the 530meter race. Mikaela Smith also of the St. Croix Track Club defended her title as well and finished first for females and second overall, her time was 1:31.
The youngest male in the race was 1 year old Omar Mutidi 5:42 and the youngest female was 1 year old Isabelle Smith with a time of 5:15.
Participants in the event had guest celebrated founder of the Last Poets…the father of rap, David Nelson as the honorary starter for the race. Participants also have a chance to win a prize by doing the online quiz about the history of the St. Croix Triathlon, the Children Run Christiansted and the Christiansted National Historic Site.
THE 17TH ANNUAL CHILDREN RUN CHRISTIANSTED
Sunday Market Square to Christiansted National Historic Site
530 Meters
CHRISTIANSTED, St. Croix, Virgin Islands May 1, 2015
Hosted by Christiansted Restaurant and Merchants Association and The National Park Service…Triathlon Jump-Up Organized by: The Virgin Islands Pace Runners
Sanctioned by: The Virgin Islands Track and Field Federation
 Place Div No.  Name                             City           St Age S Run
===== === ==== =============================== ============== == === = =======
| | | | | | | | |
| --- | --- | --- | --- | --- | --- | --- | --- |
| 1 | 1 | 99 | VALANCE Modeste | St. Croix Trac | 13 | M | 1:23 |
| 2 | 1 | 101 | MIKAELA Smith | St. Croix Trac | 13 | F | 1:31 |
| 3 | 2 | 297 | JUSENIA Tuitt | Hounds & Foxes | 13 | F | 1:39 |
| 4 | 1 | 96 | MAKARI Mathew | St. Croix | 11 | M | 1:40 |
| 5 | 2 | 25 | ASHTON Patalidis | Good Hope Coun | 13 | M | 1:41 |
| 6 | 2 | 91 | NASH Ramsdell | St. Croix Trac | 12 | M | 1:41 |
| 7 | 1 | 230 | PAIGE Combie | Hounds & Foxes | 12 | F | 1:43 |
| 8 | 3 | 264 | MIKEY Dizon-Bauman | Good Hope Coun | 11 | M | 1:49 |
| 9 | 2 | 100 | MICHELLE Smith | St. Croix Trac | 8 | F | 1:52 |
| 10 | 4 | 206 | Masse Hatcher | St. Mary's | 8 | M | 1:53 |
| 11 | 5 | 7 | REICE Richards | Good Hope Coun | 10 | M | 1:54 |
| 12 | 3 | 84 | JORDON Frederick | Free Will Bap | 13 | M | 1:55 |
| 13 | 6 | 85 | MASON Lambert | Good Hope Coun | 8 | M | 1:56 |
| 14 | 3 | 43 | T'ANNA Lake | Hounds & Foxes | 10 | F | 1:57 |
| 15 | 4 | 58 | GRACIE Sperber | Good Hope Coun | 11 | F | 2:00 |
| 16 | 7 | 49 | ZAHNIYAN Forde | Eulalie Rivera | 10 | M | 2:01 |
| 17 | 8 | 9 | RONEL Schjang | Good Hope Coun | 9 | M | 2:03 |
| 18 | 5 | 37 | KIARRA lambert | Good Hope Coun | 8 | F | 2:03 |
| 19 | 9 | 45 | LAKE Sanford | Good Hope Coun | 12 | M | 2:04 |
| 20 | 10 | 208 | DERANTE Larsen |   | 8 | M | 2:06 |
| 21 | 3 | 46 | OLIVIA Hanley | Good Hope Coun | 13 | F | 2:06 |
| 22 | 11 | 44 | TYLER Jones | AZ Academy | 8 | M | 2:06 |
| 23 | 12 | 10 | ETHAN Bourque | St. Croix | 9 | M | 2:06 |
| 24 | 13 | 76 | JAHNEIM Samuel | Eulalie Rivera | 10 | M | 2:07 |
| 25 | 14 | 39 | NATHAN Langley | Good Hope Coun | 8 | M | 2:07 |
| 26 | 15 | 103 | JACKSON Archambault | Good Hope Coun | 8 | M | 2:08 |
| 27 | 6 | 262 | J'NEOLISE Green | Hounds & Foxes | 8 | F | 2:09 |
See full results at Virgin Islands Pace